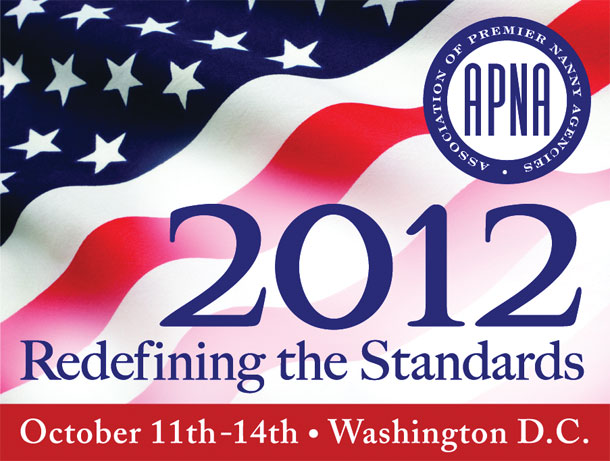 APNA's 19th Annual Conference
"Redefining the Standards"
We caucused, debated, and lobbied our positions in Washington D.C., which was buzzing with pre-election fervor, at the four-star historic hotel, "The Mayflower." Anita McBride, our keynote speaker and former Chief of Staff for Laura Bush, kicked off our 2012 conference stories by sharing her life as a Washington insider. While her insights on Washington were fascinating, it was especially interesting to hear how her life in politics wouldn't have been possible without her nannies and the support of White House Nannies.
In addition to Mrs. McBride and our always amazing industry experts, we had two days packed with an incredible line-up of professional speakers from outside our industry. This great line-up of professionals shared their knowledge on a varied of topics including vital sales techniques, new marketing ideas, effective social networking ideas, and how to create a WOW exceptional customer experience for our clients and our nannies alike. For the first year ever, we had 4 fabulous Angel Sponsors: Bright Horizons, Breedlove and Associates, HomeWork Solutions and GTM Payroll Services–it was the generous support of our APNA Angels that made it possible for APNA to bring in such a strong line-up of speakers.
We'd like to thank the entire APNA board for helping us put on a very successful conference. We could not have done it without their help. We would also like to thank APNA industry leaders and sponsors that spoke at the conference this year! Industry members that openly share their knowledge is what makes APNA unique.
THANK YOU SO MUCH:
Lora Brawley, Nanny Biz Reviews, National
Tom Breedlove, Breedlove & Associates, National
Daryl Camarillo, Stanford Park Nannies, Menlo Park
Tracy Cutler, Bright Horizons, Inc., National
Kathy Dupuy, Mom's Best Friend, Austin
Carrie Hillen, Town & Country Resources, San Francisco
Claudia Kahn, The Help Company, Los Angeles, San Francisco and New York City
Bob King, Legally Nanny, APNA Counsel, National
Erin Krex, First Class Care, Chicago
Stephen Krex, First Class Care, Chicago
Margarita Lainez, Bright Horizons, Inc., National
Guy Maddalone, GTM Payroll Services, National
Wendy Sachs, The Philadelphia Nanny Network, Inc., Philadelphia
Barbara Siegel, Parents In A Pinch, Inc., Boston
Katie Vaughan, Westside Nannies, Beverly Hills & San Francisco
Kathy Webb, HomeWork Solutions, Inc., National
Kim Winblood, Mom's Best Friend, Dallas Fort Worth
Jim Winblood, Mom's Best Friend, Dallas & Vail
We gave Annie Davis, former APNA President our new Star Award for her years of service to APNA. It is hard to surprise or catch Annie speechless but I think we definitely did both! In addition, Stars Awards were given to our Conference Co-Chairs, Jami Dennis and Ginger Swift, for organizing another fabulous conference.
As always, APNA attendees were treated to fun social outings outside of conference, which included a guided tour of D.C. at night, a hilarious evening with The Capital Steps, and opening and closing receptions where we reconnected and had lots of fun with new and old friends alike.
One of our favorite highlights of conference is watching APNA's own share their stories for Agency of the Year. Mom's Best Friend, blew us away with their volunteer and support of a boy's school in Africa. We are thrilled to name them the 2012, APNA Agency of the Year.
Agency of the Year:
Mom's Best Friend
Mom's Best Friend Franchise Wins Agency of the Year for 2012-13.
Congratulations to Mom's Best Friend (MBF) owners Kathy and Stuart Dupuy and Kim and Jim Winblood of the Dallas/Ft. Worth MBF franchise, winners of the APNA Agency of the Year Award for their presentation during the APNA 2012 Conference in Washington, DC. The theme this year was "The Children are the Winners."
MBF's presentation was entitled "Caring for Children Near and Far." MBF has sponsored a boy's school in Kilgali, Kwanda since January of this year. One of their team members, Laura Patterson, visited a boy's home town to visit the school and bring back a glimpse of what their life was like during the school year. To see the joy on these young men's faces from attending a school like this brought tears to many in the room.
MBF's video submission, described how the business has partnered with Rwandan non-profit Africa New Life (ANL) Ministries. In 2011, Dupuy met ANL founder Charles Buregeya and learned how his organization has helped over 4,000 people climb out of poverty through education and trade programs. Dupuy then used her business to make an impact by:
Donating a portion of every placement
Holding a Charity Date Night with volunteer babysitters
Sending a staff member to Rwanda to see all of the wonderful work ANL was doing with children (education), women (tailoring training program) and young men (vocational training)
Sponsoring an entire boys home in Kigali, including food, lodging and vocational training.
MBF corporate headquarters are located in Austin, Texas and they operate offices in Houston and San Antonio, and franchises in Dallas/Fort Worth and Vail/Aspen, CO. MBF provides in-home childcare, corporate back up care, events care, and senior care, as well as other types of household staff.
Another worthy entry was the video that  "The Denver Area Nanny Association" (DANA), compiled for ABC Nannies & Domestics, Inc.
2012 APNA Conference Moments:
To see more pictures of the conference, go to our Facebook page here.
2012 APNA CONFERENCE SPONSORS
Angel Sponsors
Patron Sponsors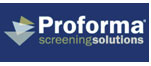 Entertainment Sponsor

Look what fun we've had in previous years!