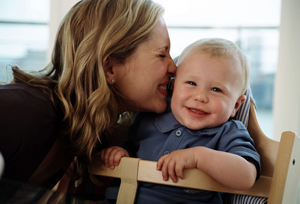 Welcome APNA members to our new Sponsor Members. As an APNA member, you will receive a discount on their services. To learn more about them, please visit their websites.
If you wish to become a Sponsor Member or need more information, please e-mail Daryl Camarillo at daryl@spnannies.com or give her a call at 650-462-4580 or fill out our Sponsor Member Form here.
Legally Nanny
Legally Nanny®, APNA's General Counsel for all its legal matters, is pleased to offer its services at special discounted rates to all APNA members. We specialize in serving the legal needs of domestic employment agencies and providing legal and tax advice to household employers. We've represented agencies in reviewing and revising employment applications, client contracts, printed materials and websites. We also advise agencies about proper interview questions, wage and hour issues (overtime, breaks, meal periods, etc.), intellectual property protection, resolution of client and business disputes, and of course, household employment legal and tax matters. If you're a domestic employment agency, we are your one-stop shop for all the legal needs of you and your clients. It is our privilege to offer all APNA members a 10% discount off all our services. Please feel free to contact us at info@legallynanny.com or (714) 336-8864 for more information. We look forward to working with you!
PFC Information Services, Inc.
PFC Information Services, Inc. was founded by (published author) Lynn Peterson in 1989. PFC conducts public records research for employers, law firms, corporations, lenders, venture capitalists, the media, and other information research firms. Pre-employment background checks are among the various types of public records research conducted by PFC.
PFC offers significant 'home state' discounts to APNA agencies. Rate quotes are available by phone or email.
Breedlove & Associates

Household Employment Tax & Payroll Specialists Since 1992
Breedlove & Associates is a full-service, full-support tax & payroll firm entirely dedicated to making the household employment compliance process easy and affordable for families in all 50 states. Founded by household employers, Breedlove & Associates brings together – under one coordinated, accountable roof – everything families need: 1) tax preparation and filing, 2) payroll management, 3) HR and labor law guidance, and 4) unlimited access to expert support & advice.
Breedlove & Associates also supports professional agencies with tools, literature and complimentary phone consultations for clients – enabling agencies to help their clients budget effectively, maximize tax breaks and avoid expensive legal problems, without having to become tax experts or dispense legal advice.
info@breedlove-online.com
Homework Solutions, Inc.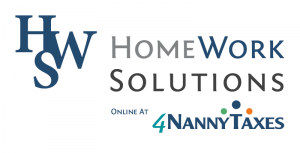 HomeWork Solutions, Inc., founded in 1993, partners with nanny placement and referral agencies to provide payroll & tax services to families employing nannies, housekeepers, and other domestic workers.
HomeWork Solutions services clients on a nationwide basis. Our website, 4nannytaxes.com, provides nannies and families a wealth of information about the "Nanny Taxes", the compliance process, as well as free online calculator tools to help families calculate the nanny's net paycheck (after tax deductions) and to draft compensation agreements that are Fair Labor Standards Act compliant. A well crafted compensation statement in a work agreement protects the family from unpaid wage and overtime claims, and provides the nanny an accurate basis for overtime compensation.
APNA members can learn more about our Agency Partner Program on line at http://4nannytaxes.com/esp/about-agency-partner-program.cfm.
This program includes benefits for your clients, as well as referral compensation opportunities for the nanny agency. Agencies, accountants and financial planners have referred their clients to HomeWork Solutions with confidence since 1993.
Bright Horizons Back-up Care Advantage Program

Bright Horizons Back-Up Care Advantage Program® (BUCA®) provides employees of our clients with a safety net for those days when regular care arrangements fall through. Back-up care supplements, rather than replaces, these arrangements and is a comforting emergency alternative when they need it the most. Bright Horizons back-up care is employer sponsored. Employees of our clients may have access to a variety of different back-up care solutions, depending on the programs in which their employer participates. For more complete information on the Back-Up Care Advantage Program, please contact:
Bright Horizons Family Solutions
2655 W. Midway Blvd, Suite 330
Broomfield, CO 80020
Phone: 866-312-4332
Fax: 303-604-0535
Website: www.brighthorizons.com
Carematch Pro

Are you "going nuts" trying to make placements because you're drowning in paperwork? Worried about online services? Looking for an edge in today's tough competitive environment? If the answer is yes, we've designed just the program for you. CareMatchPro software seamlessly manages your client and candidate applications in one easy-to-use program. Find and make matches for both on-call and permanent placements. Email and text from within the program and store all your documents with the candidate or client.  Designed to speed up the placement process and free you to make placements, not shuffle papers. Launching February 2013
Carematch Pro
Steve Lampert
6520 Platt Ave. #334
West Hills, CA  91367
Phone: 818-645-6586
Website: www.carematchpro.com
Email: steve@carematchpro.com
GTM Payroll Services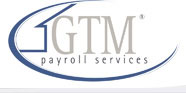 Whether you are a business owner or individual household employer, GTM boasts the extensive expertise in the HR, payroll and employment industries that you can rely upon. From our revolutionary household payroll & nanny tax service to our robust and scalable business payroll products, GTM delivers superior customer service and technological savvy, to help streamline and enhance our clients' tax, payroll and human resource management processes
The Nanny Doctor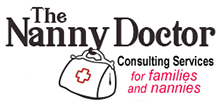 Lindsay Heller has been an invaluable asset to many families beginning their search for that perfect person to care for their children. During your initial consultation, Lindsay will help you determine your needs and set a plan and a timeline custom tailored to your family. Lindsay is available to review possible candidates, guide you through the interview process, and even pre-interview your selected pool of applicants.
Sometimes you may feel like throwing in the towel when really there may be a better solution that will be in the best interest of your children and your family. Are you considering letting your nanny go? Let Lindsay guide you through this decision making process. She can get down to the heart of the matter that's keeping you and your nanny from seeing eye to eye.
APNA assumes no liability or responsibility for, and makes no representations or warranties about the practices, conduct or services of its members, any other entities, or any websites accessible or linked from APNA's website. Your use of APNA's website, its members' or other entities' services or websites, is at your own risk.