Hello and happy (almost) summer, friends. It's been a crazy few weeks for APNA and I'm eager to share with you everything that's been going on. Let's jump right into it and talk about the 2022 APNA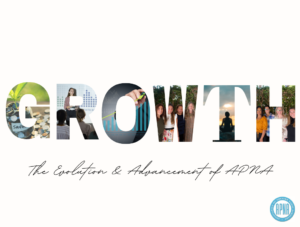 Conference in San Diego. We are thrilled to welcome a full house at our 29th annual conference in California! Our community is clearly excited to get back to normal life, as are we! Desire to attend this years' conference has FAR exceeded our expectation. As your President, I acknowledge and apologize that it's not gone as smoothly for many of you as it has in years past. But before we talk about the details of 2022, let's take a step back, and look at the last few years for context.
As we all remember, we had to cancel our in-person conference in 2020. Ugh, that was a gut punch…but we were fortunate the Don Cesar was willing to "roll over" our conference into 2021. As we geared up for 2021, we were full of excitement, then BOOM! the Delta variant arrived on the scene. We saw a significant waive of cancelations within a few short weeks of the conference. While each cancellation was understandable, the pandemic has made us all leery, it had an impact. For the first time since I've been planning conferences at part of the Board of Directors, APNA lost money on our conference. And not just a little bit. Our small non-profit organization suffered a significant loss when we did not meet our contractual obligations with regards to room sales. Sure, it hurt, but here's the good news: we've always been very conservative with our membership's money, and rest assured, we're okay.
Within weeks of wrapping conference 2021, we began negotiating terms for this years' conference at the Rancho Bernardo Inn. Despite being in the height of Omicron surge, we had hope. We secured a beautiful conference space and a large room block with room for growth before and after conference. It's clear to me now, however, that we needed more. The demand for our in-person conference this year is truly unprecedented – conference sold out in a week and a half! Additionally, many agencies booked 3+ rooms each (which is extremely uncommon) and attendees are staying longer before and after the conference than ever before. We have exceeded our room block significantly – we are at 135% fill – and the hotel is now completely sold out several nights our group is on property (it's a popular place these days!). For those who are on the waitlist or were unable to secure a room at the RBI after registering, please know we are working closely with our conference liaison to maximize the space we have and secure another room block at a property nearby. More to come on this ASAP; we will email as soon as we know more.
APNA is growing, and quickly. It's amazing! And I'm proud, humbled and adjusting. Know that I hear your grumbles, I feel your frustration, and I, along with the conference team, are doing everything we can to make it better. If you want to attend the APNA Conference, we want you there…this year, next year, and always. Thanks for your understanding and your support. I sure do love this industry and look forward to celebrating another year learning and growing together in just a few short months.
Warmly,
Jami Dennis
APNA President