As we enter 2023, APNA will be celebrating our 30th Anniversary! Throughout the year we will be introducing you to our amazing members. Get to know Erika Slade with E-Nanny.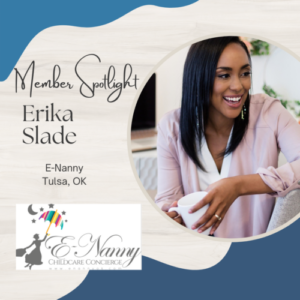 What is the biggest lesson you've learned as an agency owner?
Be authentically you. Lead with purpose. Demonstrate integrity. Connect with kindness.
What is your favorite APNA memory?
The first new hire class I took at my very first APNA conference taught by Wendy Sachs! What a game changer.
Is your agency celebrating any achievement or milestone this coming year?
We'll be 10 years old in November 2023. In November 2022 we will have provided over 1000 hours of continuing education to our team and the community.
What is your dream job if you weren't owning a nanny agency?
I'd love to start a school.
Fun fact about yourself.
I grew up on a farm.
Favorite Place I ever traveled to?
Any place or world created by the imagination and wonder of my children.
What are you most proud of in your agency?
Our nannies are seen, valued and supported. As such they can give from a place of gratitude and are active in the community at large. I am proud that we've served foster agencies, helped cloth diaper babies in need, provided care at the boys home, volunteered with food pantries, helped organize large book drives, and generally become conduits of the love we've received.
Learn more about E-Nanny https://www.enannyok.com/
Are you a member of APNA and would like to be featured? Email admin@theapna.org to get a link to fill out your submission form.