As we enter 2023, APNA will be celebrating our 30th Anniversary! Throughout the year we will be introducing you to our amazing members.
Get to know Michelle LaRowe with
Morningside Nannies
. Along with Ken Meyers, Morningside Nannies was purchased 10 years ago.
What is the biggest lesson you've learned as an agency owner?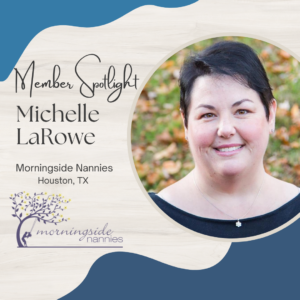 Not every client is your client.
What is your favorite APNA memory?
My favorite memory is attending my first conference after transitioning from the nanny side of the industry to the agency side of the industry.
What is your dream job if you weren't owning a nanny agency?
I'm living the dream! My role allows me to live my best life.
Fun fact about yourself
Several people in this industry have watched me grow up! Guy Maddalone, for example, supported my nanny group in Boston in the early 2000s, presented me with the INA Nanny of the Year Award in 2004, watched me serve as Executive Director of INA a bit after that, saw me grow into a wife and mother, awarded our agency with the GTM Legacy Award in 2020, and supported our family as it grew through adoption! That's being around for half my life!
Favorite Place I ever traveled to?
Nairobi, Kenya
What are you most proud of in your agency?
Through education, advocacy, and screening, Morningside Nannies raises the bar for nannies and parents, which ultimately increases the quality of care that children cared for by nannies receive.
Are you a member of APNA and would like to be featured? Email admin@theapna.org to get a link to fill out your submission form.