What is going on in this market? How is it affecting the nanny industry? It feels very much as though we are on a roller coaster ride. And not in a very fun way. Are we going up? Are we staying down? Whoa, what was that whiplash I just felt? 2022 was a much better ride.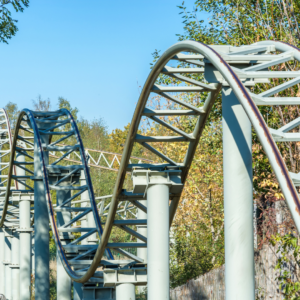 I've been thinking about all of this and want to share some of the trends I am seeing. When you own small businesses like we all do, it's so hard to know whether it's just you or if everyone is feeling the effects of the volatility. Let's face it, misery does LOVE company.
During the thick of the Pandemic, long term placements were the name of the game. Parents were home and needed/wanted to work. They couldn't do it without full-time help. The au pair program was on hold and daycares were closed. Nannies were in high demand. Hourly wages soared and nannies got hired in what seemed like nanoseconds. Placing full-time, long-term nannies was a good business. And temp services? Well… it was a very sad time for them. Hotels were empty. Events were canceled. Date nights? Those were certainly not happening.
But now, more than ever before, we are seeing parents taking a multi-prong approach to solving their childcare needs. They are trying to find care on their own through friend referrals and listservs, they are signing up with multiple agencies instead of putting their eggs in one agency basket, and they are not moving quickly to act on agency referrals. They really don't want to pay a placement fee in the worst way.
But, as we all know, when parents hire on their own, they often make mistakes. Be prepared for some of those people to be coming back for agency expertise. It only takes one bad hire for parents to realize that working with a professional agency is the way to go.
Another trend we are seeing is the disconnect between what parents want to pay and what nannies want to charge on an hourly basis. As mentioned earlier, hourly rates went up considerably during the Pandemic. That was a good thing. But they have leveled off and even gone down. In our market we are seeing a lot of resistance to $35-$40 an hour for standard nanny jobs. While there are more quality candidates on the market than there were a few months ago, the supply still fails to meet demand in some markets. And many parents are not willing to pay up to secure that quality candidate in the way they were during the Pandemic.
And so, the pendulum swings.
How are agencies going to weather this volatile market? Through diversification. Full-service placement agencies–those with multiple household staffing options–will fare the best. If one side of the business isn't working, pivot to another. While it is much less complicated to offer fewer services, agencies may be better served with more offerings. Babysitting, Newborn Care, Companion Care, Chefs, Hotel, and Event staffing all can contribute to the bottom line. When one sector is down, another can carry the day.
For agencies with sizable payrolls, 2023 has been a nailbiter. Going into savings (a good thing to have) has been necessary for many owners. Not having to pay the overhead of office rent has been a godsend for many.
In sum, what I see is flux. Making long term placements is much harder than it was last year. The supply of caregivers is improving, but there still aren't enough quality candidates to fill demand. The hourly rates which soared during the height of the Pandemic are coming down a bit. The best way to hedge the up and down market is to diversify your agency's offerings.
The good news? Babies will continue to be born, parents will still need to work, and the need for quality childcare will remain.
Barbara Kline is the owner of White House Nannies, full-service household staffing agency serving the Washington DC Metro Area for 38 years. She runs the business with her daughter Gillian, husband Richard, and wonderful team. She has gained her perspective from experiencing first hand the up and down markets of the past decades.