APNA is celebrating our 30th Anniversary! Throughout the year we will be introducing you to our amazing members. Get to know Dara G. Yates, Seaside Staffing Company
How long have you owned the business?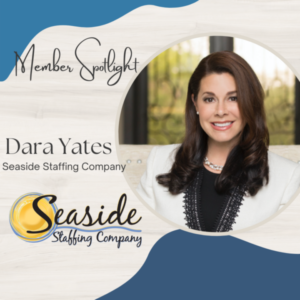 19 years
How long have you been an APNA Member?
2013
What is the biggest lesson you've learned as a business owner or a tip you'd share with a new agency owner?
Surround yourself with strong empowered women that have a drive and passion like your own, it is sure to amount to something bigger and better than you ever thought. Collaboration and having the right support are keys to success.
What is your favorite APNA memory?
Finally meeting some of the power players in our field, finally face to face! But this year, Dr. Kristen Khale blew my mind, but I also think she captured the attention of the entire room!!
Is your agency celebrating any achievement or milestone this coming year?
Yes! We are going to begin a rebranding and expansion this year!
What is your dream job if you weren't owning a nanny agency / business?
I would have a doggie daycare and call it "Blue Collar Dog Ranch"
Fun fact about yourself.
I had the incredible opportunity to live in the Czech Republic for 2 years and can give anyone a fully guided tour of Prague! Yes, dates, architecture, historical context, you name it! Anyone interested in going?!
Favorite Place I ever traveled to?
Brugge and Ghent
What are you most proud of in your business?
I think I'm mostly proud of how far this has actually come. Humbly starting in a 500 ft2 shack in Pacific Beach, I never thought in a million years we would be the number one San Diego Nanny and Domestic Staffing Agency for a decade and a half!