APNA is celebrating our 30th Anniversary! Throughout the year we will be introducing you to our amazing members. Get to know Guy Maddalone, GTM Payroll Services  
What is the biggest lesson you've learned as a business owner or a tip you'd share with a new agency owner?
Establish your values, set up some rules, go after your goals, be persistent, and never give up.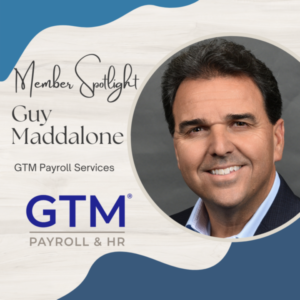 What is your favorite APNA memory? 
My favorite memory is about the inception of APNA itself. I was at the Strictly Business Conference in Boston in 1992. About 20 to 30 agencies got together and discussed the idea of a nanny agency advocacy organization to share best practices in a welcoming environment. It felt good that so many people were interested in helping each other be successful.
What is your dream job if you weren't owning a nanny agency / business?
I would love to play catcher for the New York Yankees.
Fun fact about yourself
I am the second oldest of 13 children, and we all still get along! My wife Diane and I also have three kids of our own who are carving out their own way to success while in college and their early careers.
Favorite Place I ever traveled to?
I have been fortunate to have traveled throughout the world, however my favorite place I've been is Melbourne, Australia. I went to visit my daughter who was studying abroad there, and got to chance to visit with Louise Dunham of Placement Solutions, her local nanny agency.
What are you most proud of in your business? 
I'm proud of the difference we've made in the lives of families and the caregivers they've hired, by providing valuable support services to keep families in compliance with payroll, tax, insurance, and labor laws, while encouraging human resource best practices to help ensure that nannies have a professional working relationship as well as a credit and work history and access to social security, retirement, workers' compensation, paid leave, and more.
Learn more about GTM Payroll Services