While nannies fall under the umbrella of childcare providers, their role, workplace, and responsibilities
are certainly unique.
Childcare trainings designed for daycare workers, center-based providers, and early childhood educators certainly cover content that nannies can apply to their work but does not always take into consideration the special challenges, circumstances, and situations that nannies regularly face in their role or their workplace.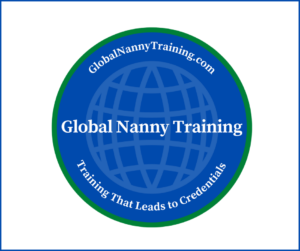 For that reason, when considering training, nannies will benefit from programs that are developed specifically for them by those who know the nanny industry best.
When nanny referral agencies encourage and support high quality and competency-based nanny specific training, it can increase the quality of their candidate pool, which can positively influence their candidate marketability and agency bottom line.

Here's why:
1. Nanny specific training increases a nanny's understanding of nanny knowledge and a nanny's
role and responsibilities, which is required to be successful. While many other childcare roles
require certification or licensing based on established standards to obtain work, no such
requirement yet exists for nannies in the United States. Over the course of the last 25 years,
however, industry organizations have begun to develop best practices, standards, and
recommend minimum requirements for nannies in effort to bring uniformity in understanding to
the role nannies play in families and the responsibilities they have in their work. When choosing
nanny specific training, look for educators who have experience as nannies, have played a key
role in helping to develop and promote industry accepted norms, and have extensive experience
and knowledge about the nanny industry.
2. Nanny specific training educates nannies about the challenges that come with the unique
work environment of a nanny. When you work in a childcare center, you never have to worry
about your boss walking out of his office in his underwear, go without a co-worker being arm's
reach away ready to lend a hand, or not having constant oversight as you perform your duties.
Nannies work largely unsupervised in their employers' private homes. The intimate nature of
the workplace and the dynamics of the relationship between parents and a caregiver who often
spends more time in their home, with their children, then they do can bring many challenges.
Nanny specific education is designed from the understanding of the unique workplace and
unique relationships that nannies encounter and provides training form that perspective.
3. Nanny specific training empowers the nanny to be his or her own human resources advocate.
When you work as a nanny, you have no one to help you when your paycheck seems off or
when you have questions about scheduling your vacation or how to notify your employer when
you are sick. You are forced to figure these things out on your own, hopefully prior to starting a
position with the creation of a written work agreement and household manual. Nanny specific
training gives you tools and strategies for starting off the employer/employee relationship right,
having tough conversations about the business side of nannying, and understanding the law,
wage compliance, and tax implications related to being and hiring a nanny.
4. Nanny specific training is developed specifically for nannies. Nanny specific training isn't
childcare training adapted for nannies, it's created for nannies with a special understanding of
what a nanny is, where a nanny works, and what a nanny needs to know to be successful. As a
center-based childcare provider, there are things about the children in your care, the families
you work with, your employers, and your workplace that you will never know or never need to
know, like how to get to the children's doctor's office or how to contact grandma, but for
nannies, this information is vital in ensuring they can safely and effectively perform their job.
5. Nanny specific training can give your candidates added earning potential and credibility.
Voluntarily enrolling and completing training that is specifically created for your workforce role
demonstrates that you are a professional who desires to be more knowledgeable in your area of
professional practice. With third-party accreditation now available to nannies in the United
States by NCFE/CACHE, the most recognized childcare care awarding organization in the world,
there has never been a better time to invest in professional development and increase your
earning potential and credibility.
By encouraging nanny applicants in your pool to pursue high-quality and competency-based nanny
specific training, you can increase the quality of applicants presented to families and support higher
wage expectations for your nannies, which can positively increase your bottom line.
If you'd like to partner with Global Nanny Training and offer your candidates access to training
specifically developed for nannies, visit GlobalNannyTraining.com.
Michelle LaRowe has over 25 years of experience in the nanny industry and has worked as an award-
winning nanny, past executive director of the International Nanny Association, executive director of
an award-winning nanny referral agency, and is the lead educator at NannyTraining.com and
GlobalNannyTraining.com. She is also the publisher of Nanny Magazine, the industry's leading trade
publication. Michelle, along with Stella Reid, launched the first US Based NCFE accredited nanny
training program and continues to develop competency-based training specifically for nannies.