APNA is celebrating our 30th Anniversary! Throughout the year we will be introducing you to our amazing members. Get to know Shenandoah Davis and Brandy Schultz, Adventure Nannies.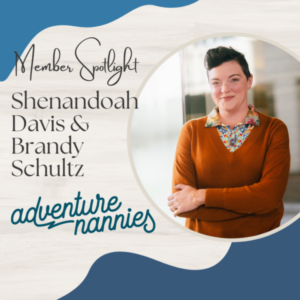 How long have you owned the business?
10 years (Brandy) and 5 years (Shenandoah)
How Long have you been an APNA Member? 
2016 – 6 years!
What is the biggest lesson you've learned as a business owner or a tip you'd share with a new agency owner?
That making friends and having positive, trusting relationships with other agency owners makes all the difference in the world. Having someone to pick up the phone and call when you're in a tough situation or need advice with an employee or client can be such a life saver and quickly remove so much of the stress out of your day-to-day – and, of course, this industry is full of dynamic, amazing folks!
What is your favorite APNA memory? 
My favorite (so far) was the 2019 conference in Santa Barbara – the property was beautiful and it just felt like all the right people were there for that moment in time. There was a strong sense of camaraderie and trust that year (which we know now our industry desperately needed moving into 2022!)
What is your dream job if you weren't owning a nanny agency / business?
Honestly – making coffee! It was one of my first jobs and I was a barista in Seattle for seven years before I made the career leap to the nannying industry. I love the simplicity of it, and how much it impacts people's days first thing in the morning.
Fun fact about yourself
I lost a spelling bee in second grade on the word pharmaceutical and I was devastated 🙂
Favorite Place I ever traveled to?
Well – I've been to 17 countries, but I'd like to think I haven't found my favorite place yet. I guess I have to keep looking 😉 New Zealand holds a special place in my heart though!
What are you most proud of in your business? 
I'm proud of our team. We have 15 dynamic, brilliant employees who have all taken the time to understand our industry and have made strides to create inclusion, equity, and celebrating differences throughout our process, even when it isn't easy to do so or doing so costs us money or makes people upset. Our team sticks behind their values. I love them.
Get to know Adventure Nannies.